At Blind Magic, we often get asked which types of window coverings are trending. This is an important question to answer because what's trending is usually what will look the best for new home builds and renovations. 
In terms of the respective types of blinds that our buyers are choosing in the greatest numbers in 2021 (rather than say, the hottest patterns and colors) this post will offer a comprehensive guide to what type of blinds are in style (2022 edition), and offer some insights into why.  In this blog post, we wanted to explore the top 10 styles that we not only recommend for style, but for longevity, comfort, and what's popular before you buy. 
Before we start, let's quickly explore the biggest trend of 2021, and one that we expect to continue into 2022…
Trending Home Office Window Coverings
Form follows function when it comes to blinds, and so many of our customers who invested in new blinds over the last year came to us looking specifically for the best blinds for a home office.
So, what makes a blind the best blind for a home office? This depends on the challenges of the room/window itself, factoring in that "office" is a bit of a stretch for many. "Corner of the lounge," "kitchen table in front of the patio doors" and "finally going to get my money's worth out of that conservatory" are a more accurate descriptions of their regular workspace for many people
The challenges that the right blind for a home office can tackle include:
Screen glare (dimming or light-filtering blinds being the solution).
Excessive Zoom usage (blackout blinds, or alternatively, unplugging the wireless hub and telling your boss there's been an internet outage being the solution).
Typical Canadian winter temperatures/window draughts (buying thermally insulating blackout blinds, or getting a second mortgage to pay your heating bills being the solution).
The room turns into an oven in summer/full sun (thermally insulating blackout blinds plus a fan being the most effective solution).
Nosy neighbours or an overlooked window threatening the future of your career in protected information seriously; privacy blinds/adjustable slats and louvers such as real wood blinds and faux wood blinds to block overfamiliar passers-by but not the sun being the solution.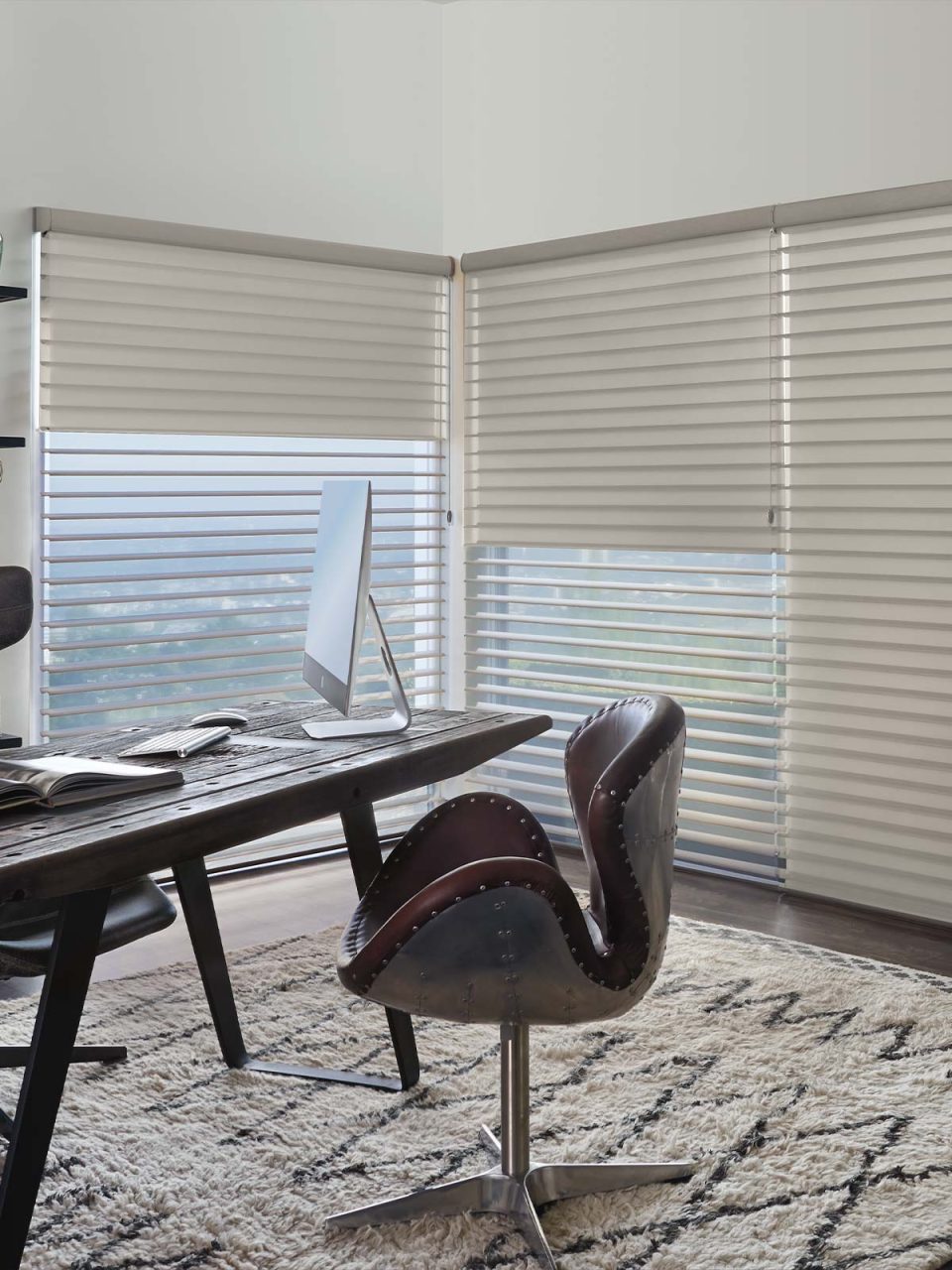 Taking these various challenges into account, the types of blinds that are in style in 2022 and so, that we've seen the most demand from buyers tend to be blinds that tackle these challenges. Obviously, not every blinds buyer of 2021 bought for a home office; but the type of blinds that have proven popular this year does reflect, and is greatly influenced by, the last year's sudden growth in work from home-ing.
So! What type of blinds are in style? Our choices for 2022's favorites are listed below in popularity order.
Top 10 Trending Window Coverings List
1) Automated Blinds & Shades
Smart homes are becoming more and more popular as the years go on, and PowerView Automation is the window treatment solution to this growing trend. With PowerView you are able to completely automate your blinds on a schedule that best suits your needs. 
Motorized Blinds and Shades also offer a cordless treatment to your windows making them safer for pets and children, as well as extended longevity due to cords and strings being outlawed in May of 2022 in Canada.
During the summer, scheduling your motorized shades to close at midday keeps your home from overheating. In the wintertime, scheduling them to open during the day will invite natural sunlight to warm your home. With PowerView Automation motorized window treatments, there's less need for air conditioning and heating and more opportunity for energy savings.
If you ask the average Canadian to name or think of a type of blind, they will more than likely picture a Roller Shade.  A stylish alternative to blinds, easy-to-operate roller shades look and work best mounted inside the window frame. Similar to blinds, roller shades are often accompanied by a second window treatment like curtains for aesthetic purposes and extra light control. Roller shades are also a good choice for windows with extra-thick molding, as they allow you to treat the window without covering the architectural detail.
In 2021, roller blinds in duolite and blackout fabrics really came into their own; for bedrooms to keep the sun out, for home office Zoom-ers, and for the laid-off/in-between jobbers, to keep the afternoon sun from ruining your gaming.
Graphic patterned prints, fluid, natural watercolour effects, dramatic blooms, and both neutrals and rich, bold colours all scored well on the design front.
Among today's most popular window treatments, Roman Shades offer stylish texture. luxury, and add natural warmth to your window design. They're easy to operate, look great when paired with drapes and come in a variety of weaves depending on the amount of light control you need.
Roman blind designs that are popular in 2022 include sweeping, organic lines, and petite, ditsy florals rather than the larger, bolder floral prints we saw a lot of in 2019 and earlier. People also love block prints, and exotic, nature-inspired designs for Roman blinds in 2022.
Popular Roman blind colours this year include deep, earth tones, and vitally, the integration of textures within the fabric to provide depth and intrigue; such as rustic warps and wefts, the resurgence of plush, tactile, glamorous velvets, and other materials that virtually demand to be touched (but only after you've washed your hands, please and thank you!).
Cellular shades are simply designed to add a pop of classic style and loads of function to your window. Many cellular shade varieties come in a honeycomb design that filters light and insulates, resulting in lower home energy costs.
Cellular blinds look just like pleated shades and are made up of two different material pieces. Excellent insulation is the main reason why they are incredibly famous and one of the hottest window blinds trends in 2022. These shades trap the air inside and guard against both heat and cold.
Installing cellular shades is a great way to keep your home warm in the winter and cool in the summer, which in turn helps homeowners save huge on their light bills. That's another reason why cellular shades are gaining traction. 
These shades are available in different cell sizes to fit the needs of different windows. Cellular shades feature light-diffusing capabilities. Blackout shades can darken the room entirely. On the other hand, light-filtering shades will fill the room with a warm and soft glow. At the same time, darker-colored or double-cell shades can block more light.
Apart from their advanced mechanism, cellular blinds are popular because of their clean and contained look, which will help you find the right fit that goes perfectly well with your décor.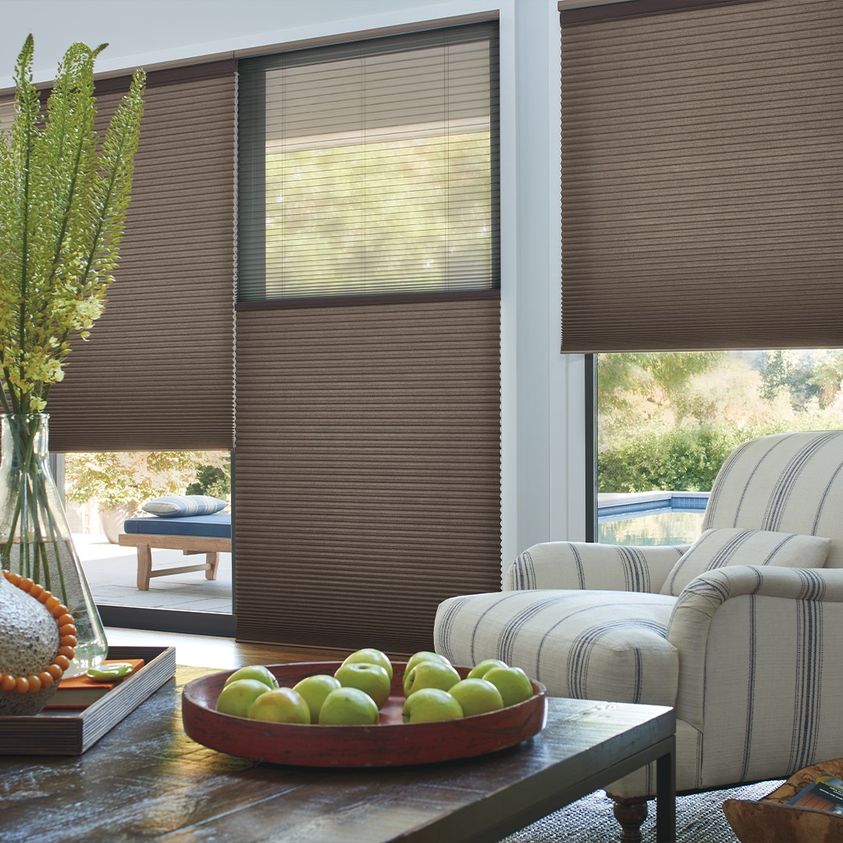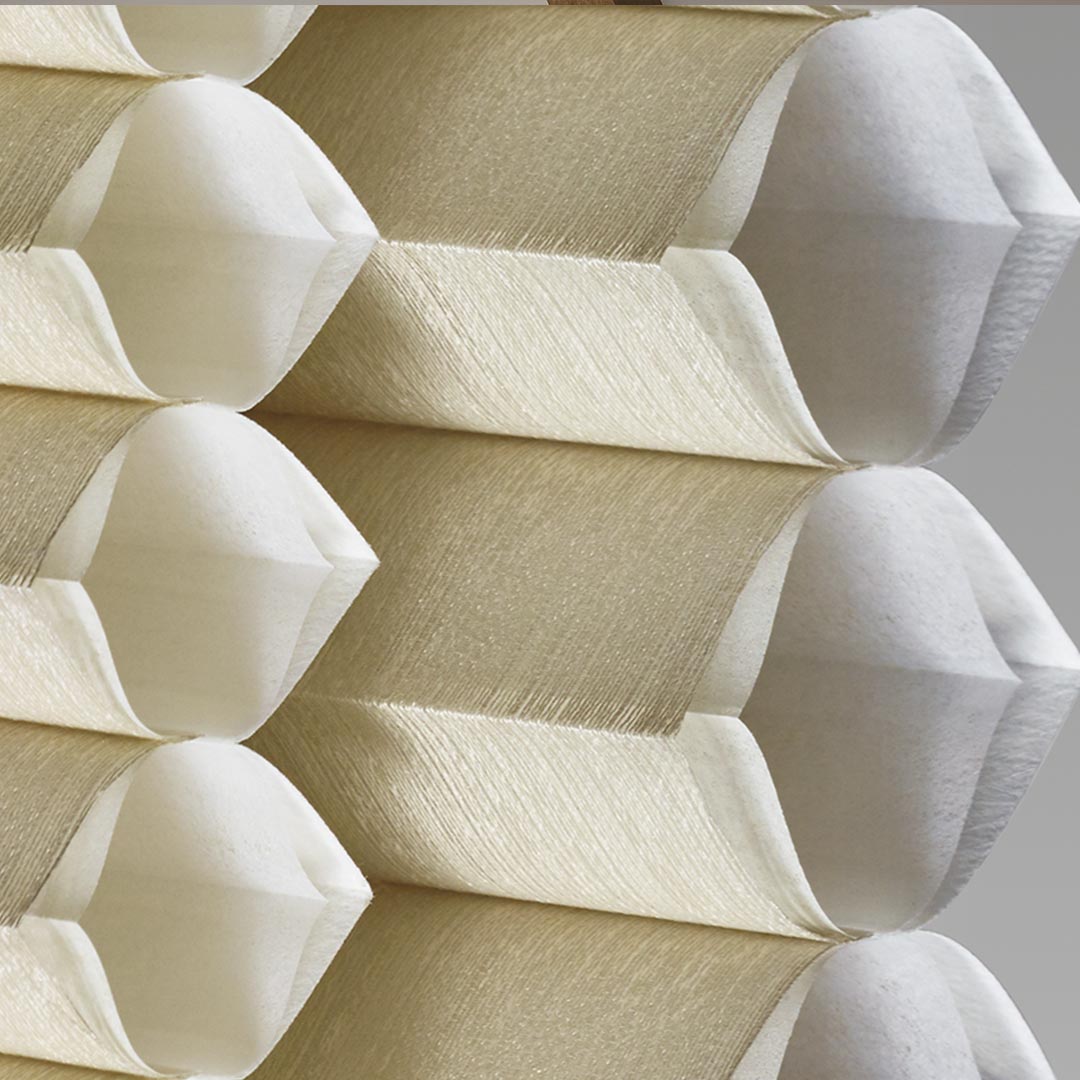 Every year we notice an uptick in Silhouette Shades. This style is constantly growing because of how timeless the shadings style is. They have a modern look that improved upon the classic blinds look with sheers in between the vanes. This sheer can be customized to be more opaque or clear/see-through as you see fit for your needs.
Effortlessly manage light and privacy at the same time. Silhouette® Window Shadings have unique S-shaped vanes that float between two sheer panels to beautifully diffuse the light into your room and, when the vanes are tilted, lets you block the outside world's view into your home.
6) Banded Shades (Zebra Shades)
Being one of the best-selling style choices of 2019, 2020 and 2021, Designer Banded Shades is a style that is not going away. Combining the styles of a Roller Shade and a Sheer Shade in one. Create varying dimensions of light with a single banded shade. Shift the solid bands of our Designer Banded Shades to overlap for extreme privacy or align the solid bands for a natural diffusion of illumination. This sheer and solid combination of fabric bands in one allows the shade to transition seamlessly from open to closed, providing a modern solution for view-through, light control and privacy.
Beautiful Fabric Collection—Designer Banded Shades come in three different band heights; numerous colors, textures and geometric patterns; and both light-filtering and room-darkening opacities.
Top Treatment—A fabric-wrapped header in a square design creates a sleek top treatment. Select one of eight custom hardware colors.
Cover Large Windows—Smooth, precise operation makes larger shades easy to raise. Designer Banded Shades are perfect for big windows that need to be covered.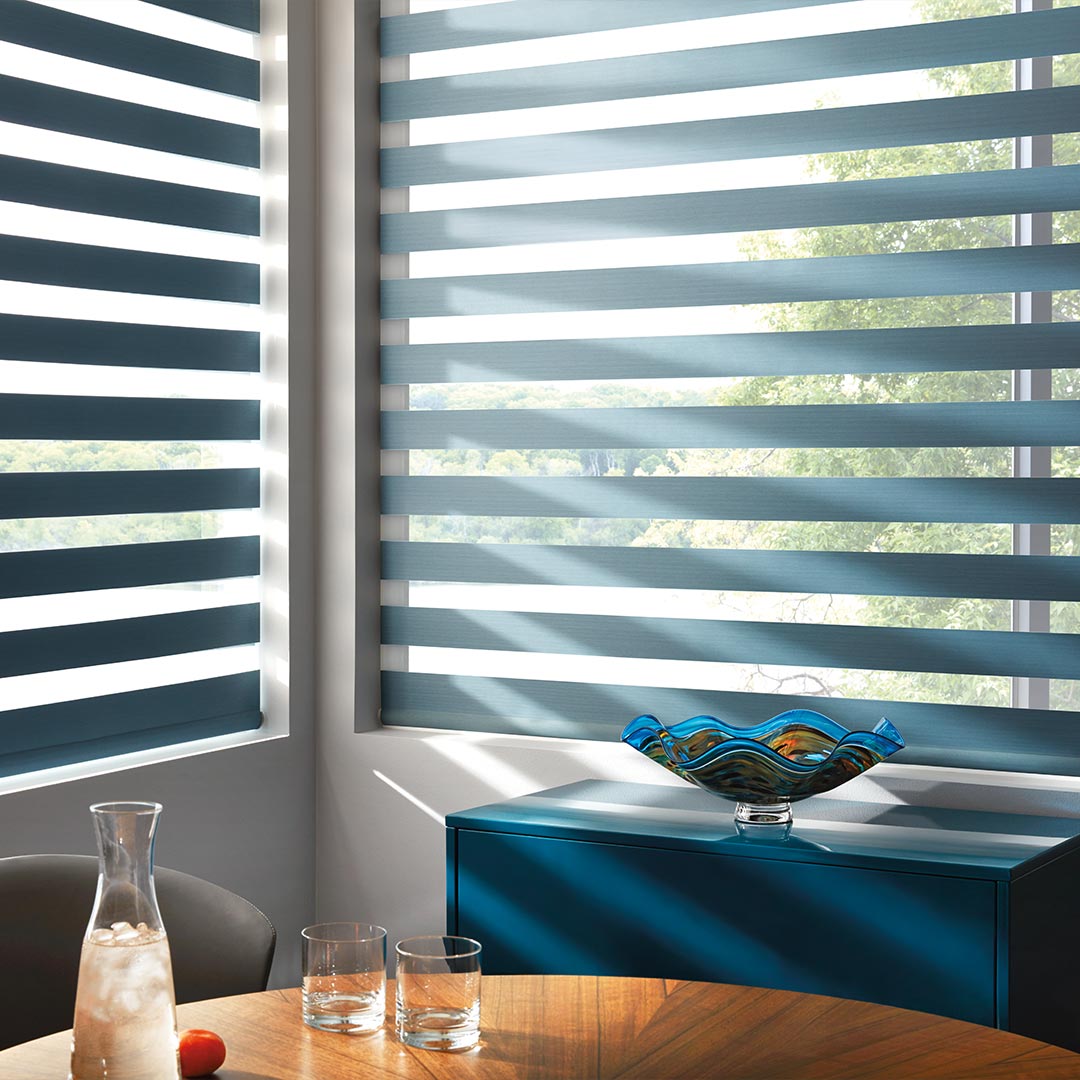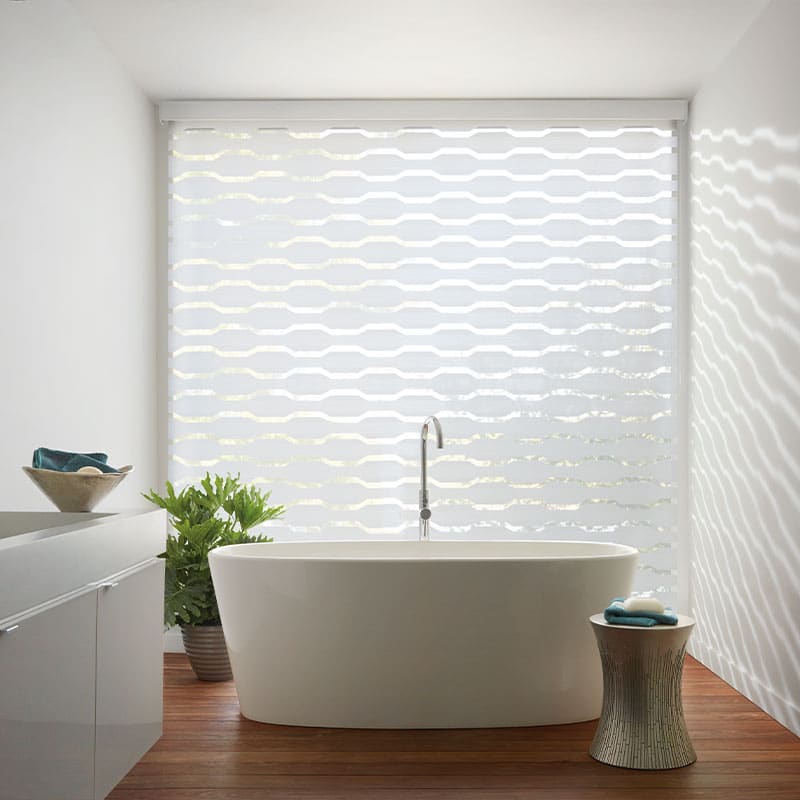 7) Top-Down/Bottom-Up Shades
Hunter Douglas Top-Down/Bottom-Up window shades and shadings offer you the ability to operate window treatments (including Roman shades, cellular honeycomb shades, and woven wood shades) from the top-down, bottom-up, or in combination to meet all your privacy needs while still giving you access to natural light.
8) Luminette Privacy Sheers
Have light when you want it and privacy when you need it. Luminette Sheers offer an amazing style with functionality that will last forever. Combine this style with PowerView for the ultimate in Vertical Blinds technology. If you would like to see these sheers in person and in action, visit our gallery to try them out! These vanes can rotate up to 180°, giving you precise light control and privacy. Luminette sheers are the perfect choice for wide expanses of glass, sliding doors, and other vertical applications.
Concealed Hardware—When your sheers are closed, our SofTrak™ hardware system is concealed by the fabric for a polished look. This proprietary system makes operation easy and reliable. 
Sheer Fabrics & Textures—Luminette sheers are available in a wide variety of fabrics, textures, and colors. A room-darkening option is also available in all selections.
Accents by the Yard™—All Luminette fabrics are available in cut yardage, so you can coordinate fabrics and create decorative accents like pillows and duvets.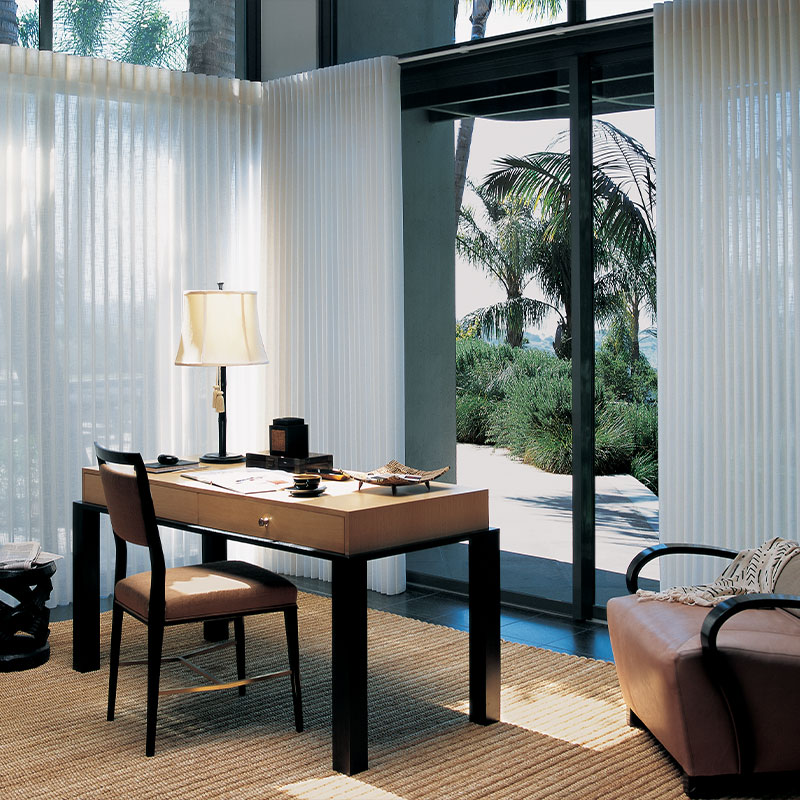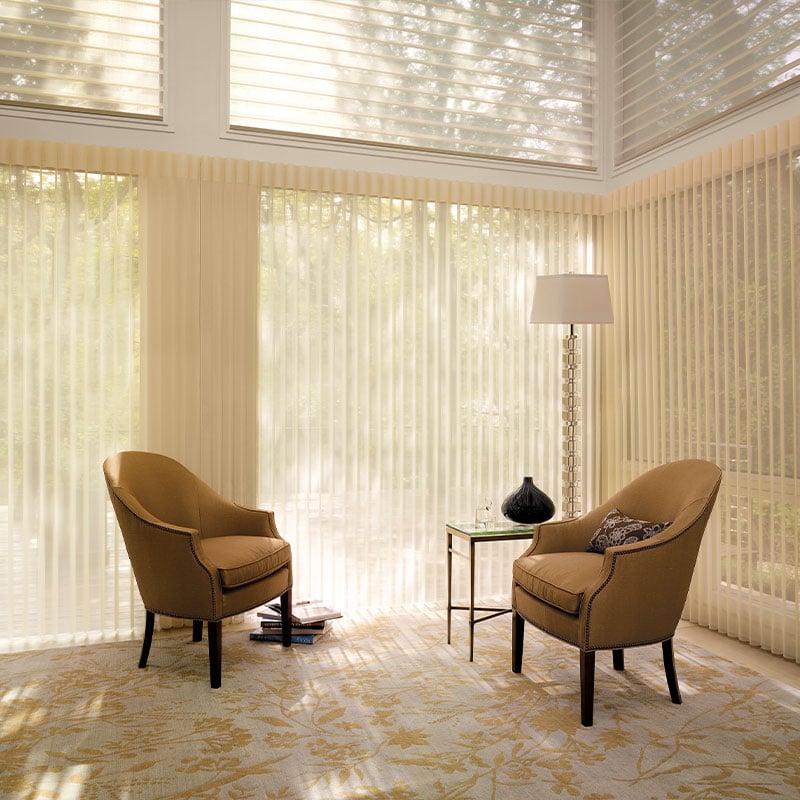 Faux Wood Blinds, or Everwood Alternative Wood Blinds, offer the look of wood blinds with the resilience of modern materials. Enjoy the rich appearance of hardwood with none of the usual upkeep. EverWood Alternative Wood Blinds have classic good looks that will withstand humid weather and sun exposure. They resist fading, yellowing, warping, and bowing—making them a dream option for bathrooms and sunrooms alike. Choose from a large selection of colors and realistic finishes, plus decorative upgrades.
Variable Light Control & View-Through—EverWood blinds provide view-through without having to be raised. Rotate the slats to manage incoming light and privacy.
Stylish Colors & Realistic Textures—The EverWood collection is available in an assortment of colors, including whites, neutrals and grays, and has the most realistic stain-like finishes in the industry.
Decorative Tapes—Accent your décor with decorative tapes that come in many colors and patterns.
Room Darkening—Our de-Light™ feature eliminates cord holes and reduces light leaks, blocking 50% more light than a traditional wood blind construction.
Made to Last—EverWood blinds are guaranteed not to fade, yellow, warp or bow—perfect for humid bathrooms or rooms with full sun.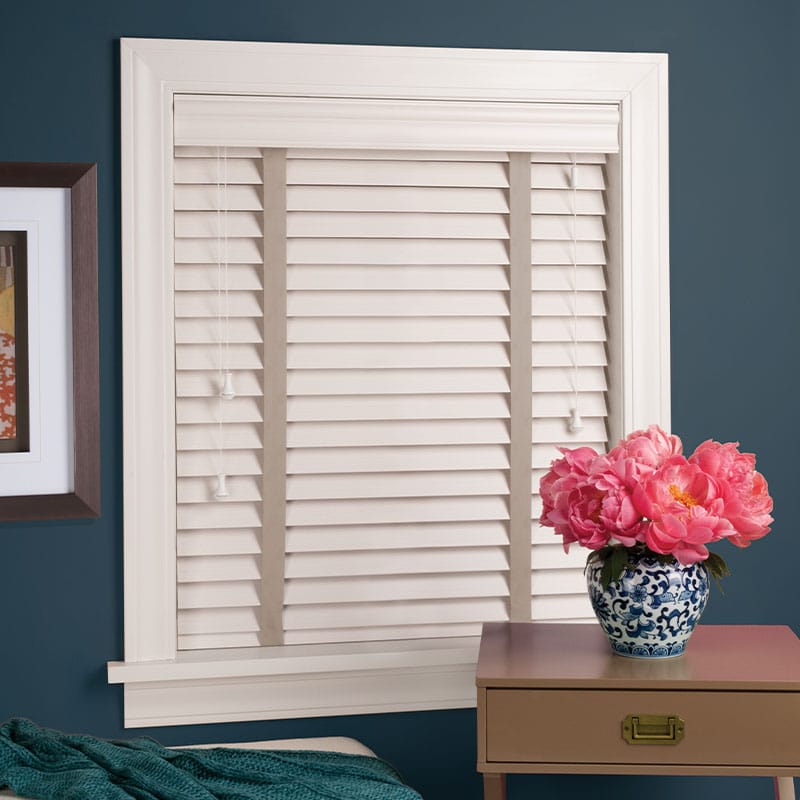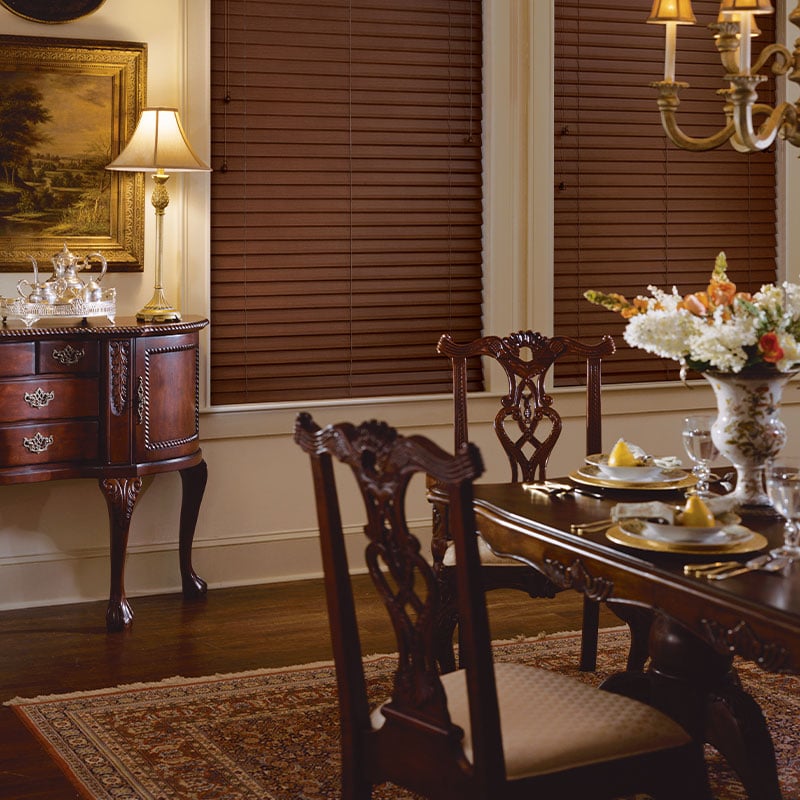 last and certainly not least, Palm Beach Polysatin Shutters bring the signature look of plantation shutters with a durable UV-resistant Polysatin material. This material prevents warping, cracking, fading, chipping, and peeling even when exposed to intense sunlight and moisture.
Palm Beach Promise™—We offer a lifetime guarantee that your Palm Beach shutters will never warp, crack, fade, chip, peel or discolor.
Water Resistant—The unique Polysatin compound is resistant to moisture and mildew, so Palm Beach shutters work very well in damp or humid spaces.
DuraLux™ Finish—This special treatment creates the look of a finely painted shutter with a matte finish on all of our Palm Beach shutters Polysatin colors.
Built to Last—Interior aluminum bracing and resin blocks add superior strength.
Motorization—Palm Beach shutters with PowerView® Automation are the only motorized shutter on the market, perfect for hands-free louver operation. An exclusive override feature also allows for manual operation; simply move the louvers by hand without worrying about damaging the motor.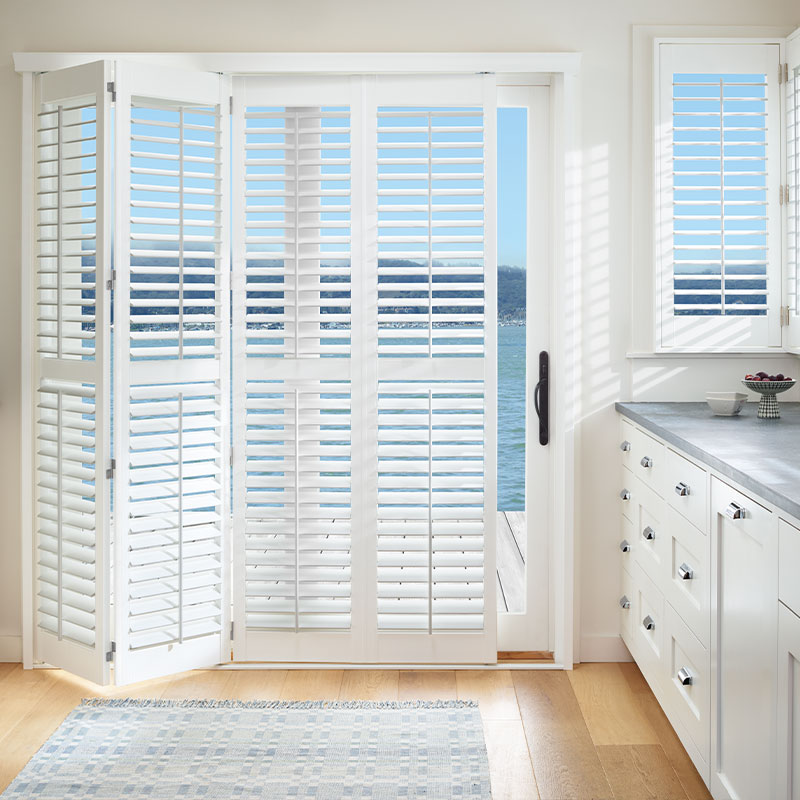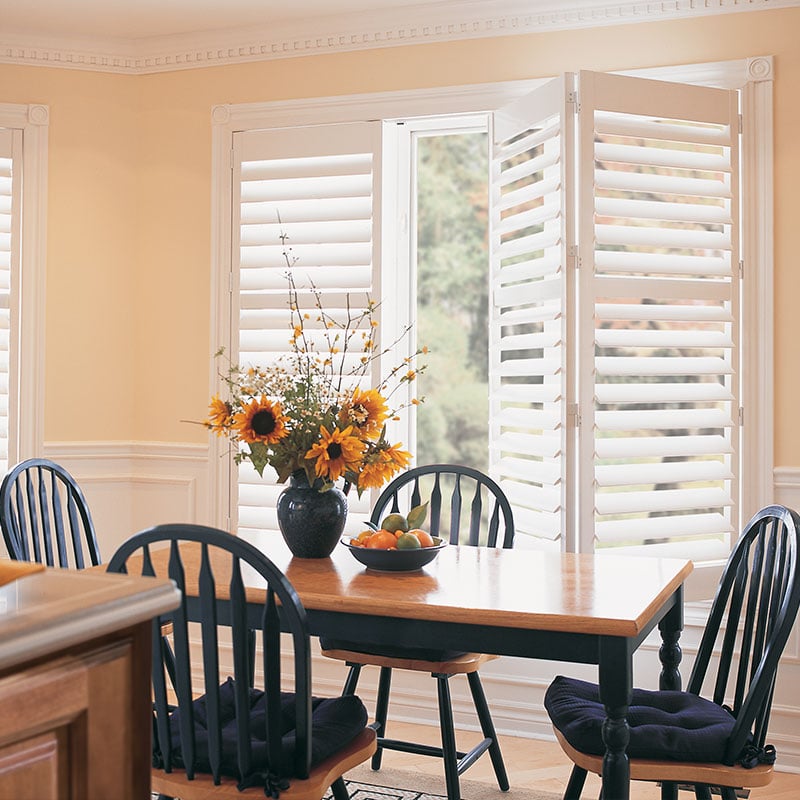 If you're looking for any of the styles listed above, we have them available at Blind Magic! You can bring measurements into our gallery and get a free quote today!
10615 170 St NW
Edmonton
, 
Alberta
T5P 4W2